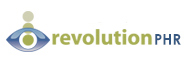 RevolutionPHR is your online "Personal Health Record" where you and only you can view important information about your relationship with us.
What can I do in RevolutionPHR?
Update key information such as email new phone numbers, email addresses, addresses, and more.
Complete your pre-exam interviews online.  This information is automatically added to your patient chart in our system which leads to a more accurate and efficient exam.  
Schedule routine appointments.  For eye infections, injuries, or emergencies please call the office.  
Check the status of glasses or contact lens orders.  
See billing statements.
How do I set-up RevolutionPHR?
If you are logging in for the first time and do not have a temporary password, please call us at 307-266-9988.  
Your username is the first initial of your first name, your last name, and the last two digits of your birth year with no spaces.  (i.e. John Smith born in 1978 would have a login of jsmith78).
Note: Usernames must be at least 8 characters long.  If you have a short last name you may need to use your entire birth year istead of just the last two digits (i.e. Clarie May born in 1972 would need be cmay1972). 
You will need AdobeReader® to download and complete the forms above. 
Call to make your appointment!